Fiverr is an Internet site that allows users to buy and sell products or services (such as designing a logo or a translation service or get new followers for a social network) for a price of $ 5 (each service sold is called "GIG").
You can do everything you can imagine: a logo design, transcription, creation of videos, link building, ads on social networks, I like on social networks, even a video of someone shouting his name on the roof of a building. These services are referred to as Gigs.
How Does Fiverr Work?


The Fiverr site has more than 25 million completed tasks, 4,000 services, and 120 categories. This presents a great opportunity for those who want to make money online. This site also has "Premium" services, where sellers can make even more money on Fiverr by offering additional services between $ 10 and $ 1000.
How to Make Money on Fiver – The Step By Step Guide
There is not much science behind how Fiverr works, it is an extremely easy to use the platform and it has different language versions for those who feel more comfortable in their native language. Next, I suggest you take the following steps to make money in Fiverr if you have no previous experience.
Step 1: Sign Up On Fiverr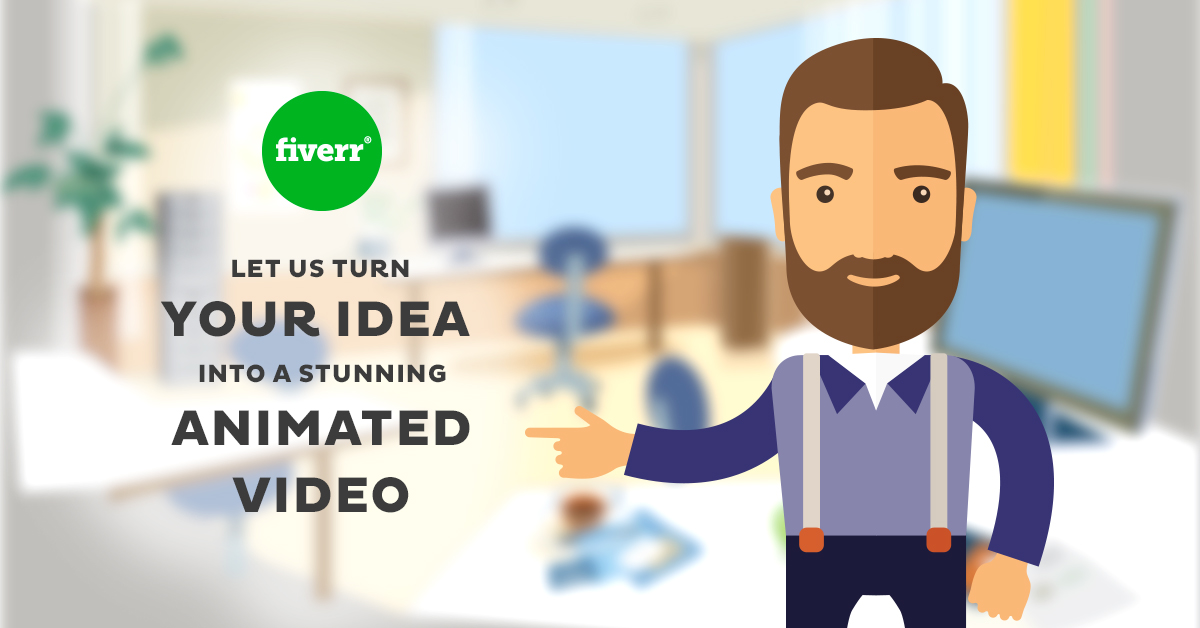 To start making money on Fiverr quickly you must register on the page following the steps below is very simple:
Go to the Fiverr portal.
Enter the join option or register, where you must enter your email, username, and password.
You confirm your account with your email.
Log in to the sign in Fiverr option.
Once this is done, congratulations you are part of the Fiverr community and you are very close to start earning money.
You can edit your profile and add photos or images alluding to your work or service offered, in this way you can attract more people to know about you or what you are offering.
Step 2: Research (what to sell)
This is the most important point since your success will depend on this. It is highly recommended that you look at the services offered by people and from among those you make a list of those that you like most and believe you can perform correctly. Once done, you can order them by popularity, because as much as you are very good imitating a cow is not interested in anyone, and stay with those who believe they can succeed more. It is important that, if possible, you are able to add a touch of originality to your service, in order to stand out from the competition.
These are the most sought-after services in fiverr:
Whiteboard & Explainer Videos
Research & Summaries
Website Builders & CMS
Lyric & Music Videos
3D & 2D Models
Presentation Design
Online Private Lessons
Web & Mobile Design
WordPress
Ecommerce
Creative Writing
Web Programming
Spokespersons  & Testimonials
Social Media Administrator
Instagram Marketing
Virtual Assistant
Accounting
Video edition
Radio speakers
Step 3: Create Fiverr Gig
A publication of Fiverr is known as "Gig", to create a Gig you must enter the Sales section and then in My Gigs, then we will press the "CREATE A NEW GIG" button. To this should be placed a title, the titles should always start with an I will  …, you should also choose the category, write a brief description as detailed as possible and add the respective labels and then press the Save button and continue. Then you must only accept a Price, and you can also add Extras.
Check out my Fiverr Gig here: I Will Test Your Website And Provide Test Report
Step 4: Create Your Gig Image
The image of the Gig is your letter of presentation, it is the first impression that the buyer will observe, and so it must be attractive and attract the attention of users. Now, making clear the importance of this step, it's time to create your image. Use your creativity to design an image that defines the service you offer, your image can be as you wish.
You can relate the image to your service, for example: if you design logos, your image can be one of your best creations.
Step 5: Write Your Gig Description
The description is another important part of your cover letter, it will let the buyer know your skills and why you are the one to provide the service. The description of the Gig is important; it will help us to define the service. Your description must be unique, clear and precise where the characteristics of the service you are going to provide are specifically expressed. It must be as explicit as possible to avoid confusion or multiple corrections for the services performed. Make it clear what you really do and you will not have problems.
You can take a tour of the descriptions of the Gig similar to the service you want to provide, to have an idea. Remember each description is personal and unique, in Fiverr the plagiarism of the descriptions is penalized.
Step 6: Add Tags / Keywords
The tags/keywords make it easy for contractors to find your service quickly and easily. The selection of the correct labels will make the difference in the number of sales.
Go through the Gig of similar services, observe the tags and keywords they use and use them as a guide for the selection of your labels.
The tags/keywords are a simple and easy step that will make you visible in the search engines used by the contractors.
Now, once you have selected your tags/keywords you are one step away from finishing the creation of your successful Gig.
Step 7: Add Video to Your Gig
Fiverr gives you the option to insert a video in your profile, to create a video using your favorite application, where your work is displayed. An attractive video will help you get more sales.
Your video may contain image, text, and audio related to your service. If you only master the Spanish language, do not worry, you can create a text video where you show everyone the service you provide.
Remember that your video allows having a more direct contact with the client, so it is important that it is specific and that it shows if possible your previous works. However, this option is optional. You can offer your service only with images and keywords, but definitely, a good video will give you more visibility and therefore more offers.
Step 8: Start Selling Your Gig
Fiverr makes it easier to provide your services from the comfort of your home or anywhere in the world, in addition to managing your time and work schedules. The application of these simple steps will allow you to have an attractive and visible Gig for buyers.
Finally, you have created your Gig in Fiverr and you have the information and tools necessary to start making money on Fiverr.
Do remember to subscribe to this blog for the latest updates!